Island™ 7
Building on the success of International multi-award winning Island™ 52and 6, the Island™ 7 is the latest entry level HDMI® cable from WireWorld.
Island™ 7 is available in up to 12m length; for those needing a certified High Speed with Ethernet HDMI cable at a extremely attractive price.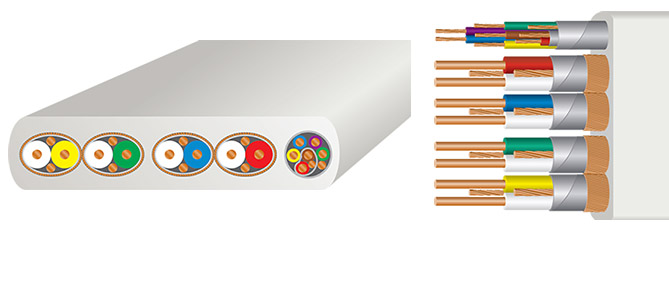 Island 7 HDMI cable utilizes Wireworld's exclusive 16-Conductor Symmetricon® design to provide faster transmission speed than conventional HDMI cable designs, in addition to Composilex® 2 insulation, resulting in industry leading performance and value.
The Island 7 (all lengths) is a High Speed  with Ethernet HDMI Cable  and fully supports Data rate >10.2Gbps- covering 1080p, HD4K, Deep Colour, Audio Return Channel (ARC) and all 3D formats.

The Island™ 7 is extremely flexible and easy to conceal, it is only 3mm thin and 14mm wide.

The Island™ 7 is also an ideal cable  those who wish to connect their flat screen displays to digital media player, video servers, gaming consoles and home computers.
Island 52 accolades
"A discreet, inexpensive cable with plenty of talent,"
"The Wireworld majors in strong, natural colours and clean contrast.
Detail and motion-tracking are impressive, too, and sound delivered strong."
What Hi-Fi? SV, Oct '07
Specifications
| | |
| --- | --- |
| Conductors: | Copper signal conductors |
| Insulation: | Composilex 2 |
| Contacts: | 24k gold plated |
| Connectors: | Molded plastic |
| Available lengths: | 0.3m, 0.5m, 1m, 2m, 3m, 5m, 7m*, 9m* & 12m* |
| Dimensions (WxT) | 14mm x 3mm (cable), 18mm x 10mm (plug) |
 * = This cable feature Active Eq. circuits. Cable direction MUST be observed for these cables to function and to avoid damage. 
IMPORTANT: Please observe the correct cable orientation during installation.
The cable is marked with an arrow "→" which indicates signal direction.
e.g. Bluray/DVD → AV Receiver→ TV/Projector 
WireWorld's Quality Assurance
WireWorld is leading the way in verifying the quality of all its HDMI®products. WireWorld's range of HDMI® cables are subjected to a very exact quality control and testing procedures. Each and every cable goes through a full electrical test and visual inspection. Only the samples that meet our strict criteria are shipped to customers worldwide.
"HDMI, the HDMI Logo, and High-Definition Multimedia Interface are trademarks or registered trademarks of HDMI Licensing LLC in the United States and other countries."